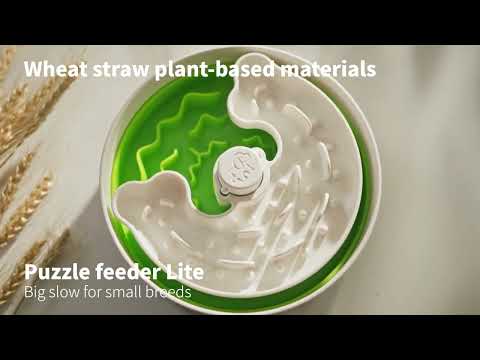 Puzzle Lick Bowl Lite / Dog Bowl for Licking Training for S/M Breeds (Orange)
---
Place your order and receive it 3-5 days.
Puzzle Feeder / Puzzle Lick Bowl
Experts and Veterinarian Recommended
Puzzle Feeder Products
Customer Reviews
Solved two very different dogs eating problems
My lab mix would scarf her food with other slow feeders in less the 3 minutes. This took her 12. Very happy. She took a nap after. My poodle is never interested in eating and this actually was fun for her. She finished everything in 25 minutes. She's not as aggressive of an eater which causes problems since my lab will walk over and finish her food all the time. Love this product.
Perfect Puzzle Feeder
This has been my favorite dog purchase in a long time. My pup loves puzzles but after doing so many, does not find them challenging. Although this feeder isn't difficult, it takes him about 20 minutes to eat a meal and gives him great menta stimulation.
Actually works!
We have a medium-sized puppy that's rapidly growing and eats like a monster in Halloween! Nothing wrong with that, except he eats so fast, he often gets ill afterwards. This product worked much better than expected. It took our dog so long to eat (and yet stayed engaged) he laid down. He went from 1-2 minutes to almost 20+ minutes. He hasn't had any further incidents and seems to actually enjoy the challenge! Product is well made and easy to clean and take care of (read the instructions first!). Not sure how long this specific bowl will last (probably for a very long time), but if I have to replace it, it will be this product.
I don't usually write reviews, but…
We have a very high energy, antsy dog who has a hard time settling down in the evening. We previously got him a slow feeder bowl that kept him busy for maybe 5 minutes, then he would be back to bugging us.
We've only used this new slow-feeder once, but HOLY COW. I turned the top-bone piece into a lick mat that I put his broth and omega oil supplement into and froze, then sprinkled his kibble into the silicone bowl underneath. It's been almost 30 minutes and he is still working at it! This thing is amazing! 10/10 recommend for anyone, ESPECIALLY those of you who have a high energy dog!
The best slow feeder
One of my dogs developed a facial paralysis & was prescribed steroids, which makes her incredibly hungry. She would devour her food in seconds & then move to steal food from the other dogs. I have a slow feeder, but it wasn't enough, she would still eat too fast. I purchased this one & it has made a world of difference! Now she is forced to eat more slowly & the other dogs finish their food while she eats hers. No more stealing!
Easy to use
Exactly what I needed for my dog. I originally tried to feed him in a different slow feeder and it didn't work. I needed something that was deeper to make it harder for him and this was exactly that. I did have to take the top spinner piece off… he was scared of it… but that's ok. That was just extra for my needs.
The maze piece comes out easily to wash everything and easily slides back in. No issues with it coming out during eating either.
Puzzle Feeder™
Designed with the multi-texture surface and three modular parts, Puzzle Lick Bowl Lite is built to bring a happy feeding experience to you and your little friends.
Dimensions
7.7''×7.7''×2.9'' (19.5×19.5×7.4cm)
Materials
ABS/TPE with Plant-Based Materials
Order Now and
You will get...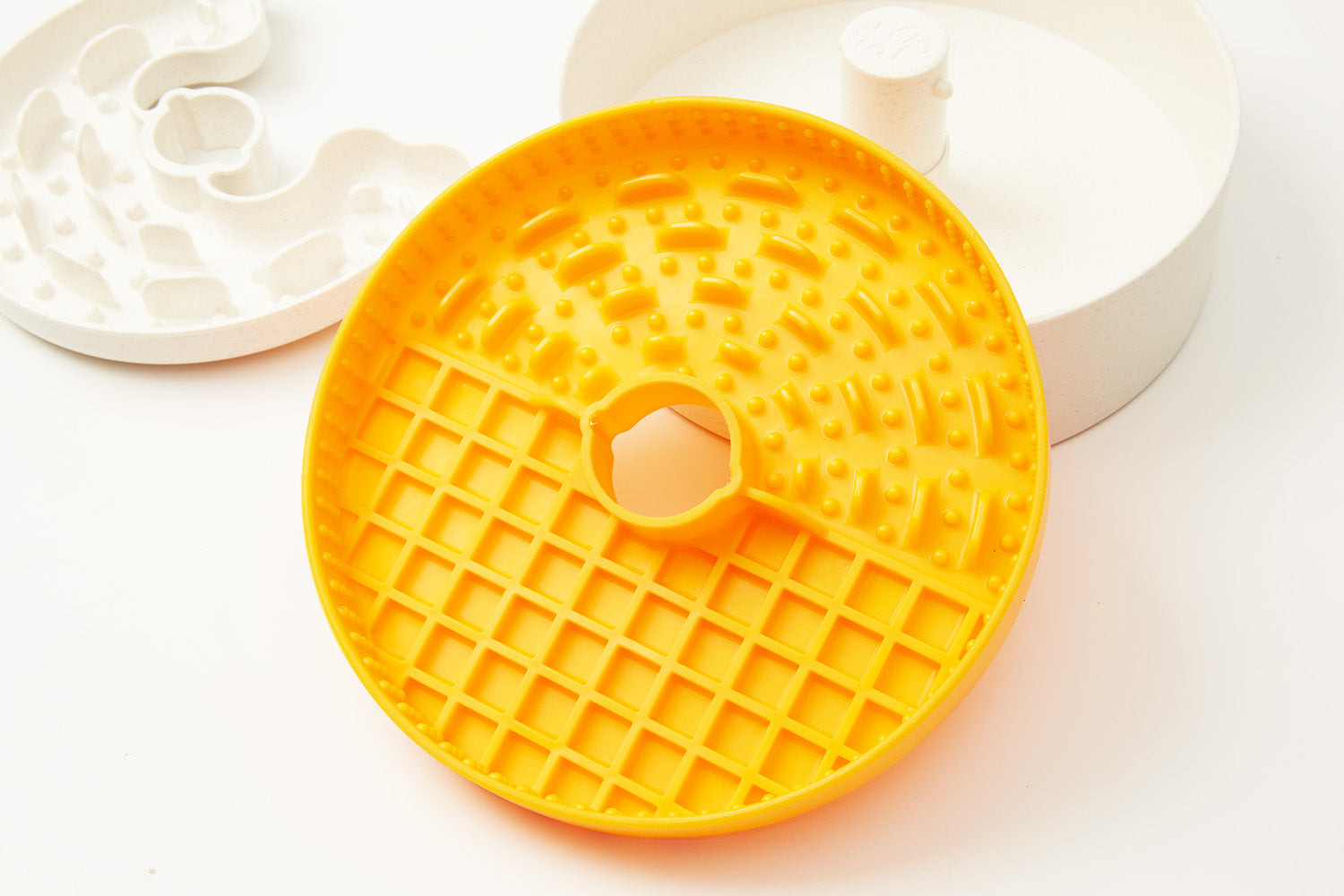 A Feast Provider.
Puzzle Lick bowl Lite* has a bone plate and a licking mat with three textures that support various kinds of food.
*Patent Pending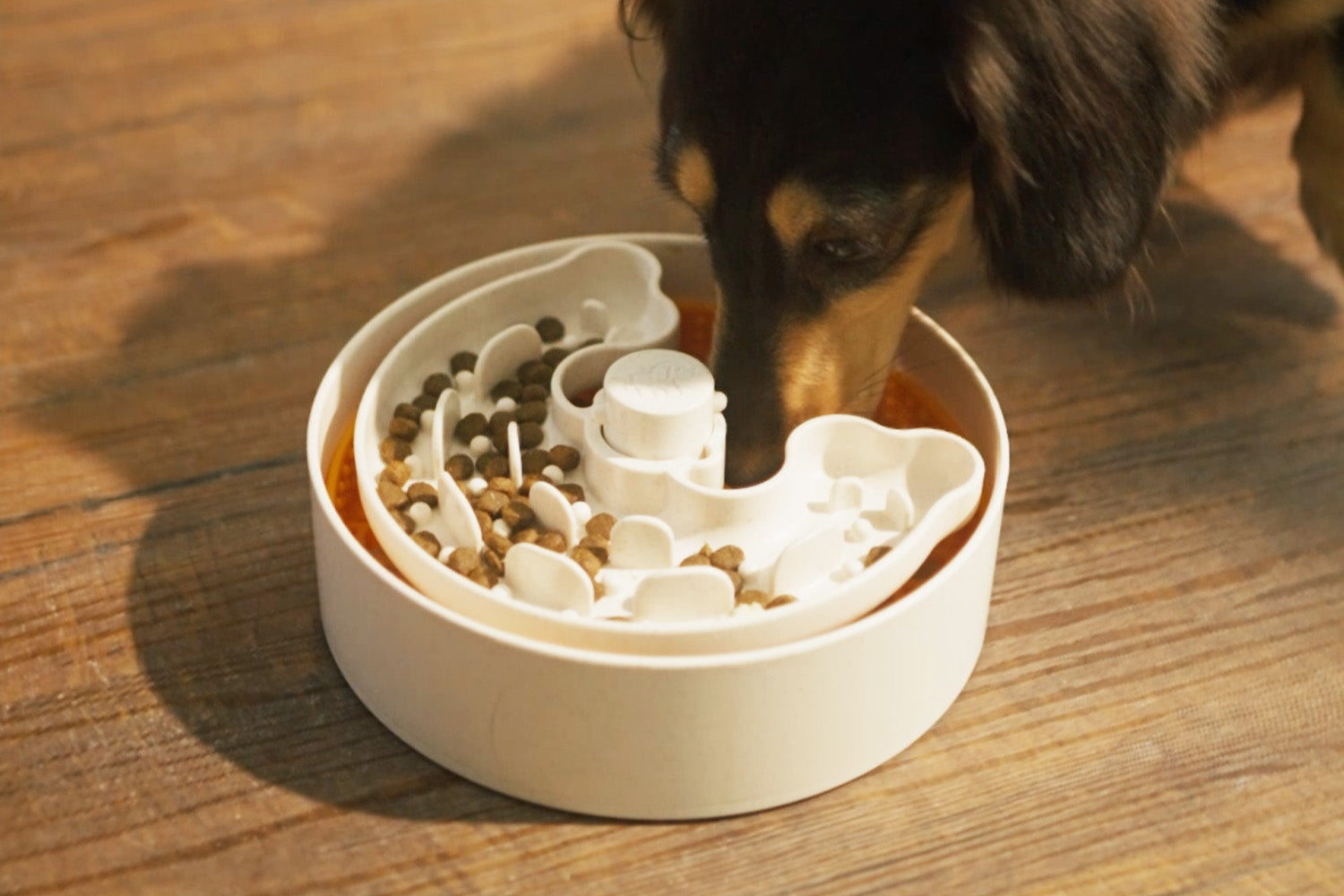 A Stress Reliever.
The special textures of the Puzzle Lick Bowl can help your dog relieve the stress* when he lick different types of food* on it.
*All kinds of dog food supported.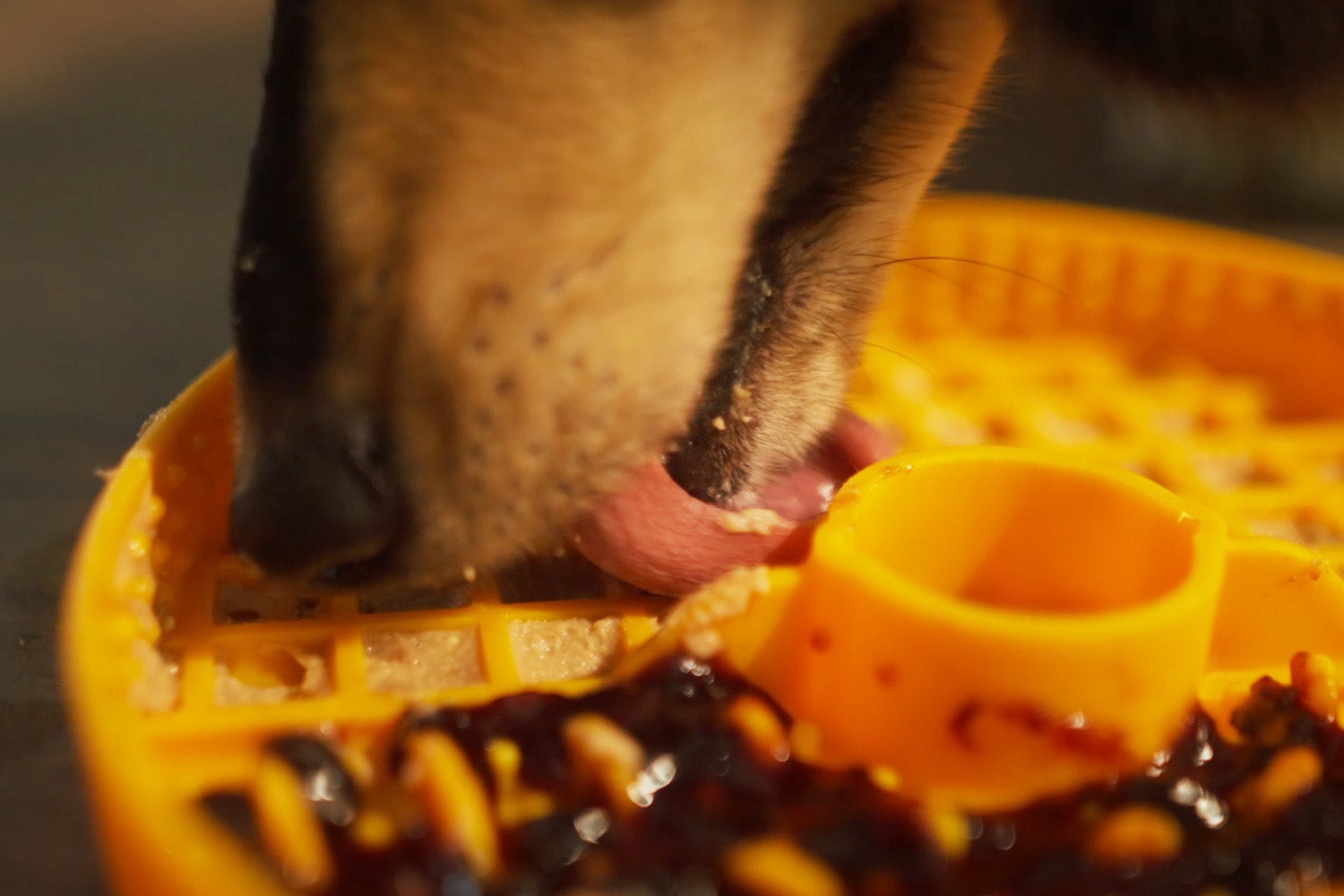 A Licking Habits Changer.
Puzzle Lick Bowl Lite has three modularized parts which can support four progressive licking modes*. Slowing down your pet's licking time can protect his digestion, relieve more stress, and make the happy meal time longer.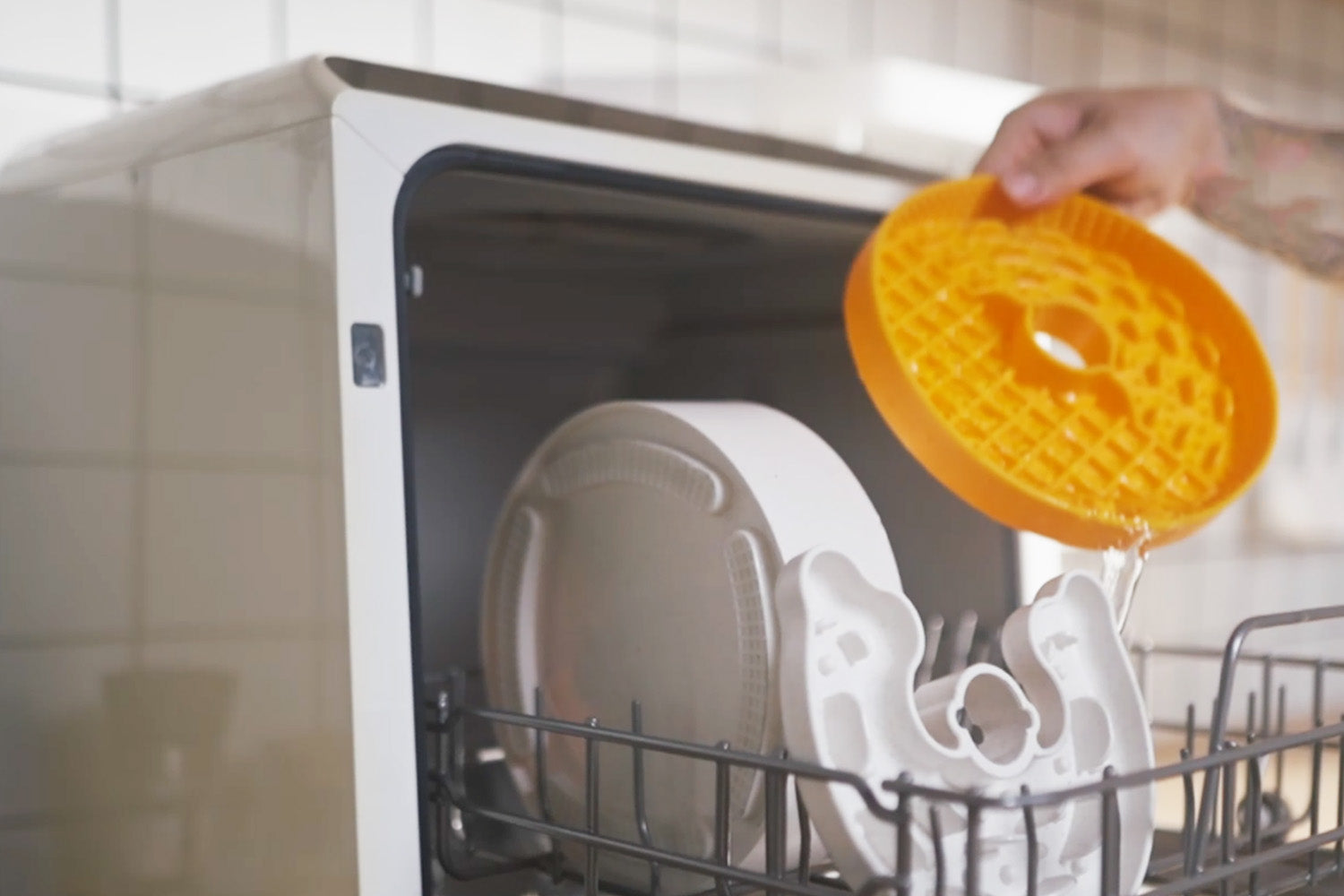 A Daily Feeding Partner.
To make slow feeding become a daily routine, Puzzle Feeder products are made with flexible and durable materials. They are dishwasher safe on the top rack*.
*Heat Dry/Hi-Temp Wash mode not recommended.
4
Progressive Licking Modes
The three modularized parts of Puzzle Feeder™ support four different feeding modes. These progressive feeding modes can be used in different conditions and eating habit training stages.
15x
Licking Time Slowing Down
The unique licking mat and the spinning bone plate on the top can significantly decelerate a dog's licking speed up to 15X than a regular feeding bowl.
28
Days Eating Habits Training
Puzzle Feeder is not only a slow feeder but an eating habit training device which can develop a good eating habit for your dog in 28 days.
Compare
Which One to Choose?
Puzzle Feeder Products are designed for all breeds and variety of functions.
Puzzle Feeder™ Cares
Customer Service
If you have any questions please feel free to contact us.

Our customer support is available Monday to Friday: 9 am - 9 pm.
Average answer time: 24h
Yes, we ship all over the world. Shipping costs will apply, and will be added at checkout. We run discounts and promotions all year, so stay tuned for exclusive deals.
How long will it take to get my orders?

It depends on where you are. Orders processed here will take 5-7 business days to arrive. Overseas deliveries can take anywhere from 7-16 days. Delivery details will be provided in your confirmation email.
Do I need to create an account to place an order?

You do not need to set up an account to place an order. However creating an account allows you to store your shipping information, see order history, and view your product's warranty information. Additional features will be added to the account page in the near future.
What is your return policy?

All products purchased from our website may be returned within 14 days of purchase for a full refund less shipping costs, no questions asked. International return orders may be subject to return shipping fees. To initiate such a return please contact us.

Our customer support is available Monday to Friday: 9 am - 9 pm.
Average answer time: 24h